HTC Droid Incredible is incredible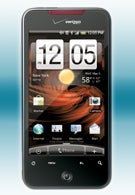 In the course of the last few months, our team got infected with an odd type of virus, called "Incredible flu". The disease is highly contagious and is caused by the constant flood of news, reporting on the
HTC Droid Incredible
. You know – "Incredible is coming on May 15/April 19/February 31!", or "HTC Incredible will feature a Snapdragon/Black Dragon/Fairy Dragon processor", and so on. The good thing is this all ended yesterday with the
official announcement of the phone
. So, is the HTC Droid Incredible a winner? Well, everything points to this…
The hardware of HTC Droid Incredible is its greatest power. It's not like we see a 3.7-inch AMOLED screen, 8MP camera, 1GHz Snapdragon processor, 576MB RAM and 8GB built-in memory (plus microSD slot) combined in a single device every day. Oh, and don't you think this back is so sexy? Ok, ok … it's a bit angular, but still…
Besides, the device has the most recent version of
Android – 2.1, and the Sense UI
, that has proved to be very convenient to use.
Another reason for us to believe that Verizon Wireless is going to sell loads of HTC Droid Incredible units is the price: $199 (after $100 mail-in rebate) is more than a good price for such a high-end device.
We expect Big Red to start offering the Google Nexus One in the near future and it should become the closest match to the Incredible. The technical characteristics of Google's phone are not as impressive, but it still ranks among the best. In fact, it fails to surpass the Desire in terms of camera (5MP, as compared to 8MP), has 64MB less RAM, doesn't have enough built-in memory, and no Sense (which can be fixed with an unofficial ROM). In case it gets a good price tag (cheaper than the Droid Incredible), it can become a good competitor.
Below, you can see a table presenting a comparison of the main features of HTC Droid Incredible,
Google Nexus One
and
Motorola DROID
– the latter being an enormous success. The DROID offers a QWERTY keyboard, unlike the Incredible and Nexus One. You can compare the specs of the HTC Droid Incredible with many other phones using
our special tool
, or make visual comparison with other models using the
Size Compare
.
Verizon Wireless
is getting some precedence over
Sprint
and its
HTC EVO 4G
, which is expected to hit the shelves this summer, as the Droid Incredible is coming out as soon as April 29. The Incredible seems to be the right Android choice for Verizon Wireless customers right now. Would you agree?
HTC Droid Incredible Specifications