HTC Desire and Legend are the company's next-gen Androids
22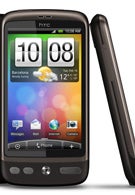 HTC today announced two new Android smartphones that we've seen in the unofficial space for months. As expected, the
HTC Desire
and
HTC
Legend
are the new Android 2.1 smartphones of the company, featuring the revamped Sense user interface. In short, the new features of the interface include a new special screen that lets you overview all the home screen pages and easily pick one. Another novelty is the Friend Stream app, which aggregates updates of your friends' social profiles. It kind of looks like MOTOBLUR's happenings. The browser app is also slightly updated, letting you select certain text and run a quick Google search for it.
Now, the
HTC Desire
(aka Bravo) is something like HTC's Sense UI version of the Nexus One. It sports very similar specs, including the beautiful 3.7-inch AMOLED touchscreen and 1GHz Snapdragon processor. For a smooth system performance, it has 576MB RAM and 512MB ROM, which sounds like more than enough. So, if you were into the Nexus One's features, but also wanted HTC's social-oriented Sense interface, we guess the Desire is what you've been dreaming of. It even has full Flash support so watching online video will be a seamless experience (we hope). The HTC Desire is a quad-band GSM and a dual-band 3G smartphone that will be available in Europe and Asia from early Q2.
T-Mobile UK
just announced it will offer the device starting March 26.
The
HTC Legend
is something else. It is the successor to the quite popular
HTC Hero
, sporting a 3.2-inch AMOLED touchscreen, 600MHz processor and 384MB RAM / 512MB ROM. Many other great features are also available of course, such as a 5MP shooter. The HTC Legend also runs Android 2.1 (aka Éclair) with the updated Sense UI proudly on top of it. The Legend has been "
machined from a single aluminum block into a seamless compact frame", which according to HTC has allowed them to make the device slightly smaller... um, okay, it's a good looker that's for sure. Being a dual-band 3G smartphone, the HTC Legend will be available in Europe (through Vodafone) in April, while other parts of the world will get it in early Q2.
Stay tuned for our hands-on experience with the HTC Desire and Legend live from the MWC!
HTC Desire Specifications
HTC Legend Specifications
source: HTC
Check
here
for our complete coverage of the Mobile World Congress!