HTC Desire 820 has a mini version that's $100 cheaper
9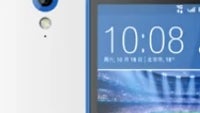 Last month, we told you that
HTC may have been readying
a cheaper and less advanced variant of its
Desire 820
smartphone. Well, we were right: the budget version of the Desire 820 is now available to buy in China under the name of HTC Desire 820 mini.
As its name suggests, the Desire 820 mini is smaller than the original 820 (which sports a 5.5-inch display). The new handset comes with a 5-inch 720p screen, but keeps the front-facing speakers and the overall look of its bigger brother. The Desire 820 mini is sold via Tmall - one of China's largest online retailers - and costs around $228 (1,399 yuan), thus being about $100 cheaper than the Desire 820.
Unlike the Desire 820, the 820 mini isn't powered by a 64-bit Snapdragon 615 processor, instead relying on a Snapdragon 400 chipset. That aside, the new smartphone features Android 4.4 KitKat, LTE, dual SIM capabilities, a 5MP front-facing camera, 8 MP rear camera, 1 GB of RAM, and 8 GB of expandable internal memory. It's not clear if HTC intends to release the Desire 820 mini in other markets, but we'll let you know when we find out more about this.