HTC 10 price slashed by $100 until the end of the month, $100 bonus in free accessories included
6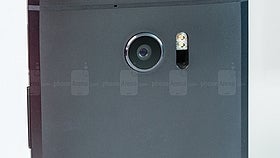 HTC has just announced that its flagship smartphone, the
HTC 10
, will be priced at a $100 discount until the end of the month in the US.
Starting today and through the end of July, US customers can purchase the HTC 10 at a price of $599. That's a $100 discount compared to the usual price of the unlocked HTC 10, which regularly retails at $699.
On top of this $100 discount on the HTC 10, the manufacturer is also offering HTC 10 buyers another $100 in credit that can be used to purchase accessories from the company's official US web store. Note that you don't need to purchase the HTC 10 from the manufacturer itself to get the $100 in credit towards accessory purchases; just provide a proof of purchase and the company will give you $100 in credit to spend on accessories. Note that the $100 can be used to purchase accessories for any HTC device, but the HTC Vive VR headset and related accessories are not part of the promotion.
This discounted HTC 10 price if good for GSM unlocked units (which will work with carriers such as T-Mobile and AT&T), Verizon, and Sprint units. The phones are available in both grey and silver and come with one-year of free Uh-oh protection.
In the past few years, HTC has been squashed out of the entry-level and mid-range segments of the smartphone market. As such, HTC is now highly dependent on its flagship smartphone series to turn a profit. Unfortunately for the iconic smartphone maker, however, early signs show that the HTC 10 is not the commercial success that HTC needed it to be, and this despite the phone having received largely positive reviews in the tech media.
The fact that the HTC 10 gets a $100 price cut so early since its launch could indicate that the flagship isn't selling very well. On the other hand, many customers might be tempted to check out the HTC 10 at this discounted price, especially given that the relatively high price of the phone was its only major downside.
What do you guys think? Is the HTC 10 worth $599 with a $100 bonus in free accessories?
source:
HTC