HTC 10 Q&A: Your questions answered
27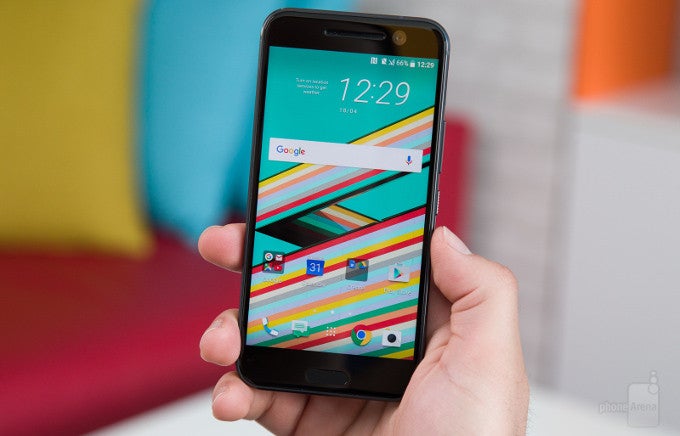 In case you've missed it, we just finished reviewing the HTC 10! Long story short - HTC nailed it this time and its 2016 flagship is a rather compelling, no-compromise handset. It won't be far-fetched to say that it's among the top 3 best phones so far in 2016, definitely standing out. Of course, some questions might have left unanswered in the review, so we gave the opportunity to as ask us anything you wish to know. Well, you asked, and now, we answer!
tech2
:
"How's the display legibility in daylight against S7 or G5, because you gave pretty terrible score in max brightness in your review? Also, it has not so comfortable excessive chamfered edges on the back and it is also wider than S7. Does it make it more uncomfortable to hold against S7 ?"
PA
: Yes, the LG G5 and Samsung Galaxy S7 are a bit more legible than the HTC 10 under bright daylight, but this does not mean the HTC 10 will give you a hard time. Regarding your second question: no, the HTC 10 is rather comfortable and sits extremely well in the hand. Whether the Galaxy S7 is better in this regard, well... We believe this is quite a subjective aspect of the duo, so you really need to try them both and form your own opinion.
sh1un1k
:
"When is HTC 10 launching in India?"

PA: Despite the rumors that the HTC 10 might be launched in India, the last official word on the matter claimed the HTC 10 Lifestyle will be hitting the Indian market. Still, there's a chance that the Snapdragon 820 version will be chosen instead. As far as the release window is concerned, our bet is as good as yours, but will probably take place sometime in early-to-mid May 2016.
efato
:
"In the camera app's pro mode, up to how many seconds can the shutter speed go?"
PA
: The longest shutter speed that the Pro camera mode gives you is 2 seconds.
legiloca
: "What do you think of HTC's stripped down new version of Sense mashing up with Vanilla Android?"
PA
: We are pretty impressed with Sense 8. For one, it's hard not to like the clean utilitarian interface, which arrives with an essential array of apps only. No bloatware, almost no duplicate apps. If you're into stock Android, Sense 8 sure delivers. It's also pretty well-endowed in the customizability department, which feels like a big plus to us. BlinkFeed also feels polished and actually useful, unlike other manufacturers' news-aggregating home screen apps.
AhmadAlsayeg
: "Hey Pete..I've read Chris' review, and i had a question about audio output. did you guys try the phone with other high-end phones, aside from the original ones? how did the phone perform with regards to audio quality and loudness?"
PA
: Yep, we tried a couple of different ones. With other high-quality in-ear headphones we experienced similar, too bassy audio output, which is not a weakness on its own, but will not appeal to just anyone. Of course, with a pair of cheap no-brand knock-offs you can largely mitigate the bass reproduction, but then again, why would hi-fi audio matter with such low-end gear?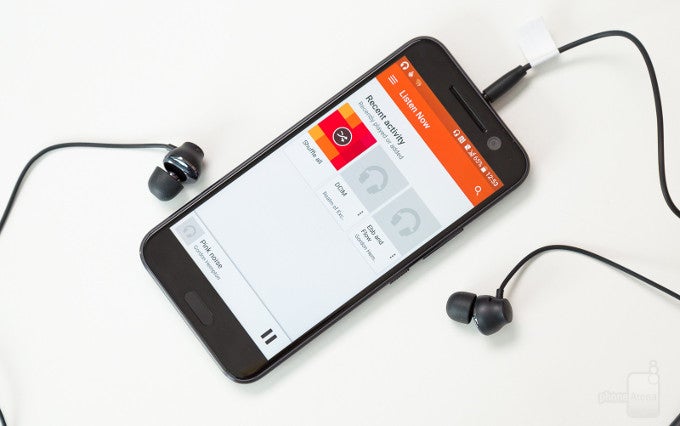 Evil_Shadow
: "Does it have manual mode in Video setup like LG?"
PA
: No, it doesn't. The Pro mode applies to pictures only.
Reza.N
:
"How is the display compared to GS7 & G5?"
PA
: The HTC 10's display is up on par with the one on the Galaxy S7 and a bit better than the LG G5's one in terms of display properties. With mostly correct colors, very good color fidelity and gamma response, we are looking at a very good display, despite the color temperature that is leaning to the colder side of the spectrum. Still, it's worth pointing out that both the LG G5 and the Galaxy S7 achieve higher maximum and lower minimum brightness than the HTC 10.
Arch_Fiend
:
"In the review you said this: "Quite frankly, this is by far the smoothest-running, non-Nexus Android device to grace our offices" If you were to rate the S7,G5, and HTC 10 on smoothness alone, what would you rate them 1-10? You can throw in a smoothness rating for the iPhone 6s and Nexus 6P if you want, just to put it in perspective of course."
PA
: That's a very interesting question. Okay, here goes: if the HTC 10 is a solid
9
, the Nexus 6P scores a
10
, the iPhone 6s scores a
10
,the Galaxy S7 gets a
7
, and the LG G5 earns an
8
.
mikrosmile
:
"How Google now on tap will work on HTC 10?"
Step 1
: You tap and hold the home button.
Step 2
: Google Now on Tap does its magic.
Step 3
: ???
Step 4
: Profit!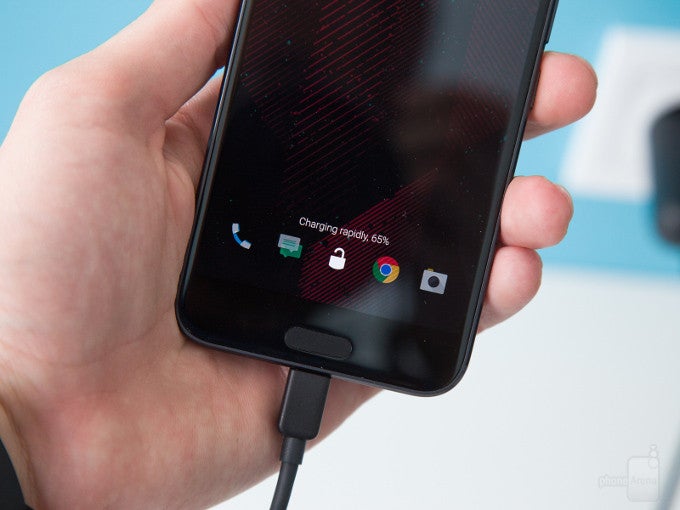 Dr.SamX
:
"What is the maximum brightness of the display with and without auto-brightness-control turned on? Is there a big difference?"
PA
: There is no significant difference between the maximum brightness in either manual or Auto mode. During our tests, the maximum automatic brightness differed by 2 nits in comparison with the manual one - no big deal.
drunkenjay
: "would you prefer an s7/iphone type home or HTC 10's version?"
PA
: We guess each author here at PhoneArena would have a different opinion. Some like the touch-only button of the HTC 10, others prefer a more classic home button that provides a "click" feedback. As many opinions as there are people...
drunkenjay
: "If you could change 1 thing, what would you change?"
PA
: That's a tough one. We'd probably enforce world peace and end global hunger, but regarding the HTC 10 we'd probably further fine-tune the camera. Not that it disappoints, we just feel it can do more.
avishekmukherjee
:
"Is there any difference between sense 8.0 and sense 7.0?"
PA
: Visually, the differences are minor. What Sense 8 brings to the table are less duplicating apps, more customizability with the Freestyle layout, and generally, the well-executed software.
ParsaMK
:
"What micro SD card is the best for this phone ( money doesn't matter )? How's the responsiveness and multitasking? Can we use on-screen buttons instead of capacitive?
"
PA
: We've covered your questions about microSD cards
right here
. Multitasking and responsiveness are both excellent - we are yet to experience an interface hiccup. Capacitive buttons only.
Chazar
:
"Does it have dual membrane microphones (HAAC) like HTC One (M7) or top Nokia/Microsoft Lumias?"
PA
: We have heard nothing on the matter and HTC has not been vocal about the recording capabilities of the 10, so we suppose there are no HAAC microphones aboard.
ViswaVenkat
:
"What version of gorilla glass does it use?"
bugsbunny00
:
"How is the fingerprint scanner? Is it accurate/fast to unlock, and how is the low light shots, is it on par with GS7 and LG G5?"
PA
: HTC 10 has an excellent fingerprint scanner, fast and accurate. In low-light environment, the HTC 10 performs good and almost on par with the Galaxy S7, though we feel like the G5 has the upper hand here. Well, it's hard to sum it up in two words - check out
our dedicated low-light comparison
between the HTC 10, Galaxy S7, LG G5, and the iPhone 6s Plus!
zeddd
:
"Do you think the htc 10 design and the full almuminum body is boring and not innovative?"
PA
: Well, no. It might not be exciting and innovative, but the HTC 10 covers the design part very well. True, it might be boring for some, but we like it very much.
Garyhoo
:
"Should I upgrade from the m9+ to the 10?"
PA
: Yes, there's no second opinion. The new one has much better display, camera, and interface, not to mention the more macho design.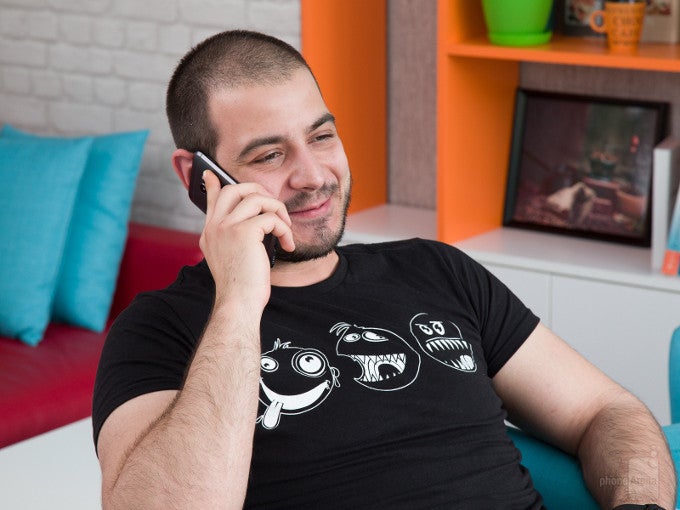 xsoft7
:
"Does it come with cloud storage? 100GB google drive for two years?"
Af1rPA
: "Will these positive reviews mean HTC increase the price of the phone?"
PA
: We highly doubt this!
Gabriellow1990: "Opinion on its speaker performance? (Loudness, clarity etc)? Camera performance? Low light?"
PA
: Clarity - excellent, loudness - not so much! We now have a dedicated low-light camera comparison
right here
. Battery life is very good, the phone will last you a day at least.
KoensSocialLife: FM radio?
HTCOE
:
"Does it support Android Pay/NFC?"
antmiu2
:
"Which camera does better in low light: Galaxy S7 or HTC 10?"
PA
: The Galaxy S7 by a very thin margin.
c.y.a.n.i.d.e:
"Does the camera bump bother?"
PA
: Not at all. Actually, it looks bigger in photos than in real life.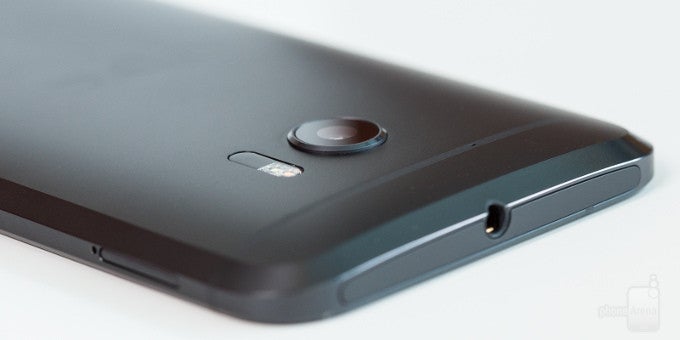 pooma
:
"s7 or 10?? so confused.. which one to get?? i do not care about ip68 or super amoled but i really do care about camera.. please suggest me overall best allrounder"
PA
: If having the best camera around is crucial to you, then the Galaxy S7 might be a better pick for you since it performs a bit better in certain scenarios. However, the HTC 10 is not far behind. Both are excellent devices and you will have to make a tough choice.
Alter
: "Are the capacitive buttons adjustable in any way?"
PA
: Well, you can either set them to be enabled as long as the display is on or only enable their backlighting upon touch.
Erikronao
:
"Can you activate the hidden System UI Tuner by pressing and holding the gear icon in the notification tray to customize quick toggles just like in Nexus devices running stock Marshmallow?"
hk.trade
:
"Can you please comment on the focusing speed and focus accuracy in HTC 10 compared to S7?"
PA
: Although it's fast, the HTC 10 focuses just a bit slower than the Galaxy S7. In video mode, the HTC 10 sometimes struggles a bit while transitioning between objects, but that's not such a major issue.
techietech:
"Aren't the chamfered edges at the back too big/too awkward? And does it make the phone more slippery?"
PA
: It's as slippery as any full-metal phone out there, the chamfers don't make it more slippery.
TheGranter
:
"How well does it take a fall compared to other phones?"
PA
: Sorry, we won't be able to provide an answer to intriguing question!