HTC 10 (M10) renders in four color variants leak – black, white, gold, and gray
21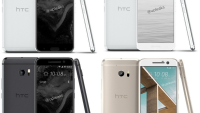 From an enigma, the HTC 10 (a.k.a. M10) has become an exposed secret in a matter of weeks. With all the renders and whatnot that leaked recently, we've formed a pretty good impression about the device's refreshed design language. With those deeply sculpted sides and familiar, yet attractive front panel redesign, the HTC 10 represents enough of a design update to ward off criticism that the company's design work has grown stale. We like where things seem to be going with this one and we hope the rest of HTC's upcoming flagship will be just as revitalized as its looks are!
HTC is refreshing its smartphone design to ward off criticism and excite customers.
Anyway, check this out – if the new batch of leaked renders is legit, then the HTC 10 will be sold in at least four different color variations. In addition to the white and black variants that we already saw, there will be silver and gold finishes available as well. More specifically, the renders show black front/white back, white front/white back, white front/gold back, and black front/gray back combinations. A black front/white back combo is an unusual choice, but we can't say it doesn't look fine! As for the gold variant, it looks a bit pale, reminiscent more of champagne than jewelry.
HTC might introduce more color options down the road, but for the time being, this is what we have. In terms of hardware, the HTC 10 is rumored to have a 5.1-inch QHD-resolution screen, and is to be powered by Qualcomm's beastly Snapdragon 820 chipset with 4GB of fast, power-efficient LPDDR4 RAM. HTC also promises a "very compelling" 12MP rear-facing camera, and the smartphone's front will be garnished with a pair of BoomSound speakers to the joy of mobile audiophiles. The HTC 10 could be released in stores on the 19th of April, which means that its announcement should take place soon, or on the 19th of April at the very latest.
via
UberGizmo
Also read: