HP takes a leap forward in quickly dropping the price of the Palm Pre 2 to free
5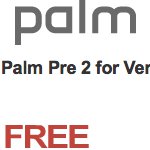 As we all continue to wait for Big Red to make a move in potentially lowering the price of the Palm Pre 2, HP has gone ahead once again to lower its price point through their HP Wireless Central online store.
Previously, we've seen them already bring it down to as low as
$30 with a contract
, but it didn't take them long to bring it to a new level that everyone would be content about it. Precisely, they're now selling the Palm Pre 2 for the
2-year contract price of free
– whereas Verizon hasn't moved from its
$149.99 on-contract pricing
. So if you've been patient in holding off a purchase for the most up-to-date webOS smartphone on the market right now, then it's about time you made a move and go buy this one.
Obviously, HP can't go any less from what they're offering right now – that's unless they decide to give customers money back to purchase it. In any event, the ball is now in Verizon's court because we're sure consumers are waiting for them to follow accordingly.
source:
HP Wireless Central
via
PreCentral