HP quickly drops the price of the Palm Pre 2 for Verizon to $30 on-contract
4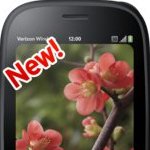 If you recently purchase the
Palm Pre 2 through Verizon Wireless,
you're probably going to kick yourself in the behind about it because HP has tremendously slashed the pricing for its webOS powered smartphone.
Sure it might be beneficial to go with your carrier for most occasions when purchasing a new phone, but HP seems like they really want you to buy it from them. That's because the handset is now priced at
$29.99 with a 2-year agreement
on their HP Wireless Central web site. You heard that right, this device can be bought for super cheap through HP directly, but if you prefer the no-contract route, your best option is still to side with Verizon since they're selling it for $409.99 versus the $429.999 that HP is asking.
Naturally, some people would believe that its price point right now is fitting since we're expected to see its successor arrive some time in the very near future. But if you just can't wait for that to come around, then probably this solution might fit the bill in the meantime.
source:
HP Wireless Central
via
PreCentral