HP TouchPad launches straight to the number one spot on Amazon's bestselling list
18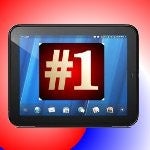 With just about every major
retailer cutting the price of the HP TouchPad
to the impressive price of $99, there's no arguing that it's going to be one head turner for just about anyone. Of course, you're pretty much relying on good old fashion luck if you're attempting to stroll into a local store thinking that the TouchPad is going to be readily available for the taking, but for the people who managed to get in on Amazon's deal yesterday, they aided the webOS tablet in achieving something considered unfeasible a couple weeks back.
Literally overnight, the
HP TouchPad
went from being the unknown tablet on Amazon to jumping straight to number one on their
bestselling list
– ousting the Kindle during the process. Not surprisingly, HP's tablet is occupying the number one and two spots respectively with the 16GB naturally edging out the 32GB one.
Regardless, we're curious to find out how sales for the TouchPad this week stack up against the competition – like the iPad 2 and Samsung Galaxy Tab 10.1. Needless to say, it wouldn't surprise anyone to find the TouchPad beating them all this week.
source:
Amazon
via
PreCentral