HP Pre 3 Hands-on
16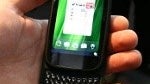 Back in the day, the original PalmPre was an iconic device despite its delayed launch and Palm'sfunding problems. WebOS undeniably has one of the most originalconcepts for a platform with the card-based webOS, but the Pre seemedto be always plagued with problems and the most important one of themis the lack of massive developer support as seen on iOS orAndroid. The HP Pre 3 marked an important threshold – the end ofthe Palm era and the transition to HP for webOS. We were eagerto take our hands on the upcoming Pre 3 to see if it has thepotential to build on the legacy of Palm, so read on.
The HP Pre 3 brings initial relief –the screen is finally bigger than on previous Pre handsets at 3.58"with a WVGA resolution (480 x 800 pixels). Actually, the whole deviceis notably bigger. But at the same time, 3.6 inches is starting to beconsidered a bit small in the high-end segment and with its Summerrelease date the Pre 3 might remain the only flagship handset withsuch a small screen size. Nevertheless, it is a big improvement andwebOS looks even better on the HP Pre 3. And it is not only the looks– the whole experience feels richer. The handset is compatible with the Palm TouchStone wireless charging dock as well.
Of course, this handset is all aboutthe QWERTY keyboard – the bigger size allows for more space betweenbuttons, which contributes to a faster and almost error-free typing.The universal "Just type" search on webOS will let you fullyappreciate the presence of a physical keyboard.
But most importantly, we wanted to seesmooth transitions and speed on the next Pre. And we have to say thatthe performance doesn't disappoint – with a mind-blowing
1.4GHz Qualcommsingle-core Snapdragon CPU
and 512MB of RAM, webOS
flies on the Pre 3
. Thehandset also comes with a 5-megapixel shooter with 720p HD videocapturing capabilities on the back and a front-facing VGA camera. Connectivity is well covered with support for Wi-Fi b/g/n, as well as Wi-Fi router functionality for up to five devices using HP mobile hotspot. The device's HSDPA bands allow for downloads of up to 7.2 Mbps.
In the software department we will seewebOS 2.2. And it is the first Pre with Touch-to-share, which allowsyou to instantly send content such as URLs to other compatibledevices like the HP TouchPad. A well rounded package, isn't it?Finally, the Pre seems to stand a chance among the other smartphoneheavyweights. If only it could come out earlier!