Microsoft is selling the HP Elite x3, bundled with a desk dock, for only $299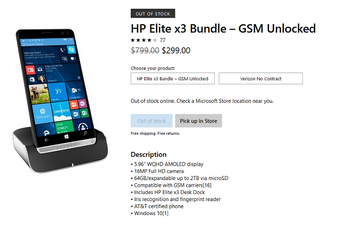 Back in December of 2016, the
HP Elite x3
was a high-end handset, powered by Windows Mobile 10 and designed for enterprise users. Less than two years later, the platform is dead, and the phone's specs are far from cutting
edge
. But that doesn't mean that the
Elite x3
wouldn't make a useful second phone at the right price. And if that price is $299, the Microsoft Store has an appetizing bundle for you. Purchase the unlocked HP Elite x3 from your nearby physical Microsoft Store, and you'll get a free desk dock tossed in. The dock allows you to connect a mouse, QWERTY keyboard and computer screen to the handset using the Continuum feature.
Before we refresh your memory by listing the specs, keep in mind that this phone works with GSM carriers only, which in the U.S. means AT&T or T-Mobile. Also, you cannot take advantage of this deal online where it is listed as being out of stock. If you want to purchase this bundle, you will have to take a visit to your nearby Microsoft Store (If you don't know where it is, click on this
link
).
The Elite x3 features a 5.96-inch AMOLED display with a 1440 x 2560 (QHD) resolution. Under the hood is the Snapdragon 820 chipset, equipped with a quad-core CPU and the Adreno 530 GPU. The unit includes 4GB of RAM and 64GB of expandable storage. The camera combo, from back to front, weighs in at 16MP and 8MP respectively. Keeping the lights on is a hefty 4150mAh battery, and you can use your iris or fingerprint to unlock the device.
This bundle used to cost $799, but with the passage of time and the end of support for Windows 10 Mobile, you can now pick it up for $500 less. Also on sale at the Microsoft Store is the Lap Dock for the Elite x3. This accessory uses the phone to power a laptop computer with a 12.5-inch display, a full-size QWERTY and a trackpad. Once $599, the Lap Dock is now just $199.