Gresso shows the world what a $1000 iPhone 6 case looks and feels like
11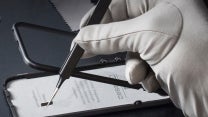 Luxury smartphone maker Gresso has a new fancy something to offer to those for whom spending $1000 on an iPhone accessory is not a problem. Meet the new Gresso Regal Case for the iPhone 6 (also ready for the upcoming iPhone 6s)! It's made of 18K Gold and Grade 5 Titanium, and other than stunning good looks, it's got a magnetic lock system fashioned by Gresso itself.
The Regal case has a rather unique construction, not just because of the high-end materials involved. Unlike typical bumper cases that come in two separate parts and get assembled like a sandwich, Gresso's upper and lower protective frames are joined by a hinge. With the magnetic system in place, the case closes and opens with just one move. Meanwhile, access to function keys and ports is ensured at all times. And being chiselled out of PVD-coated titanium, following 8 hours of machine work and 3 hours of manual polish, the Regal case is resistant to mechanical stress, such as compression and bending.
Once again, Gresso has
successfully avoided being gaudy
, opting for what it calls "luxury minimalism" in place of diamonds and jewels. The design complements and enriches the iPhone 6 by enhancing what makes it look good in the first place - and that happens to be just the right amount of minimalism, polish and restraint.
The Gresso Regal Case is available now from Gresso's online store. It is limited to 999 units, with each case having its number etched onto a gold plate - a signature move for the manufacturer.
source:
Gresso