Grand Prix Story for Android Review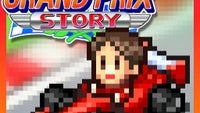 Introduction:


Who needs flashy 3D graphics and ultra-realistic physics anyway? At the end of the day, it is the fun and challenging gameplay that really turns an ordinary video game into a well-selling title. Introducing Grand Prix Story for Android (version 1.6 and above) – a seemingly innocent, yet highly addicting video game that puts you in the shoes of a racing team manager. We cannot omit mentioning that the title comes straight from Kairosoft – the creators of the increasingly popular Game Dev Story, so if you are a fan of their management video games, chances are you are going to like this one as well. This time, your goal is to transform your racing team from an underdog into a front-runner, and the best thing about it is that you will be having lots of fun getting there. So, here is how the story goes...
Gameplay, Graphics and Sound:

If you have ever owned a Super Nintendo, you will definitely notice how well Grand Prix Story mimics the look of video games from that era with its pixelated 2D graphics and bright color palette. The inevitable feeling of nostalgia strikes even harder backed up by the quirky soundtrack, which means that old school gamers will likely find the title extremely appealing.


After you are done admiring the game for its retro looks, it is time to actually play it. You start off by getting your team a car, which you can later improve by researching upgrades and swapping parts. It is the
great variety of car types and upgrades
that make Grand Prix Story so much fun to play. Of course, not all of them will be available straight away so you will need to race your way to unlocking them.
Thankfully,
the game is challenging
so do not expect to start winning races the very first time you play it. Initially, your driver and mechanics will need to gain some experience and your car will also require a few upgrades. The more you race, the more your team's stats will improve and the better results your driver will achieve.
Adding an extra dose of challenge to Grand Prix Story is the variety of terrains, on which you can race. For example, if your car is tweaked to excel on tarmac, chances are it won't do very well if you put it on dirt or ice. That is where your managing skills will come in handy and it will be up to you to decide which parts and upgrades would give your car the upper hand.
After you have been playing Grand Prix Story for a while you will probably get the feeling that the game is
getting kind of repetitive
. That is exactly when a new circuit, a new car type, or a new part will be unlocked so you will keep on playing just to try them out. Another thing that might make the game lose its appeal is that you cannot change your driver's manner of racing during a competition. You cannot instruct him to drive more aggressively or carefully as you usually can in other video games of the same type. Besides that, would it be too much if we ask for some type of an online racing mode? Just think about it, lining up your team's racing machine against a human player would be pretty cool and would make the game even better than it already is.
Conclusion:
Grand Prix Story is one fun little game that you will find yourself playing for hours at a time. There is something, however, that might stop you from hitting that "Buy" button - its $5 price tag. Luckily, there is a free demo version available so if in doubt, grab that and decide for yourself whether the game is worth it or not. Now excuse us while we go and spend the rest of the evening playing Grand Prix Story.
Grand Prix Story
for Android [Android Market link]