Grab the new Google Messenger here; RCS support coming soon?
8

Google Messenger ver. 2.0 is now out in the wild with a brand new Pixel-style round icon and a redesigned UI. The updated build of the app is compatible with all devices running Android 4.4 KitKat and up, and you can download the APK here, even if the update hasn't rolled out to you yet via the Google Play Store.
Note: This is a stable release of Google Messenger that installs over your current version of the app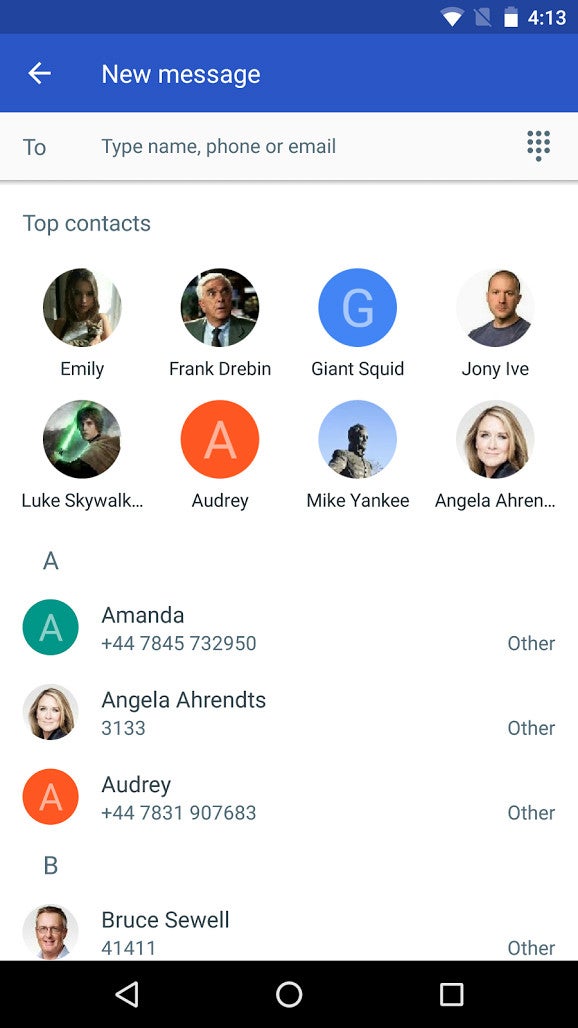 New contacts list in Google Messenger 2.0
Google Messenger 2.0 sports the new circular app icon from Pixel Launcher, a redesigned notification bar icon, and an altered color palette that is in line with the new version of
Google Phone
. On the in-app UI front, the "New message" screen has been rearranged a bit, doing away with the "Frequent" and "All contacts" tabs, in favor of a more unified look. Your most frequent contacts now displayed in two rows at the top, while the full contacts list below has become a bit denser, with smaller photo for each entry.
Conversations have also been "roundified", with message bubbles now sporting noticeably smoother corners, and look more compact overall, mainly due to minimized padding and profile icons not appearing next to every message, but only at the beginning of message threads, similarly to Facebook Messenger and iMessage. The "Send" button in the text box now has an additional caption under the paper plane icon, reading "SMS" or "MMS", depending on the type of message you're sending.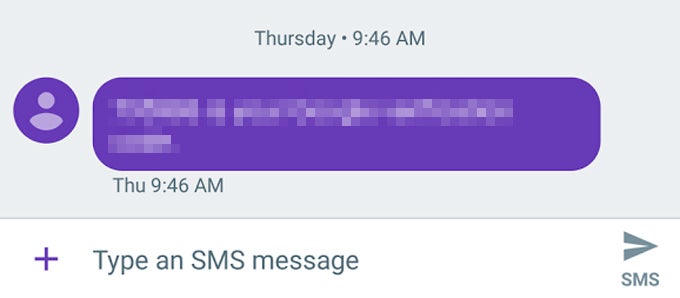 Rounded corners on message bubbles
Interestingly enough, there is a new service called "JibeService" running alongside the Google Messenger 2.0. Although this doesn't confirm anything at this point, it may be an indicator that Google is looking to include support for Rich Communication Services (RCS) in the app. RCS has the potential to become the next standard for texting services, bringing features such as video calls, group chats, sharing of media content, and all the bells and whistles typically associated with instant messengers, across many different platforms supporting the standard. Furthermore, if the recipient of an RCS message is not using a supported platform, the message could be reverted to a standard SMS, making the protocol viable, albeit in its most basic form, on any platform with support for SMS. Unfortunately, none of this functionality is available in Google Messenger as of now, but it is a clear indication as to where things are headed. One has to wonder, however, what Google's future plans hold for Allo, if the company is looking to implement RCS into its default texting app.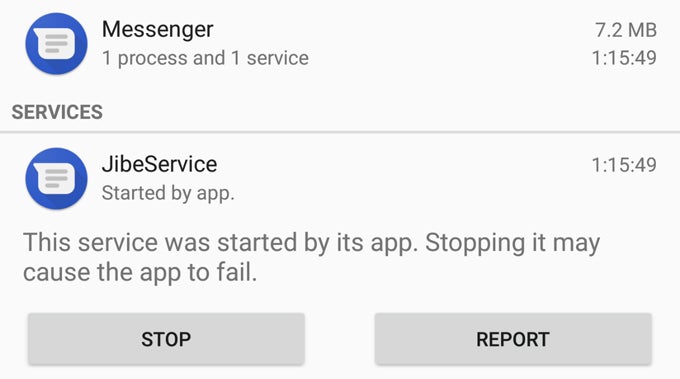 JibeService running alongside Messenger 2.0