Goophone i5S launched in China, tries to convince us it's an iPhone 5S
19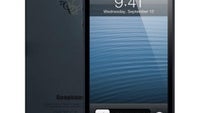 Remember how back in August, a Chinese phone maker
released an iPhone 5 look-alike
before the real deal was even official? Well, Goophone has now done it again! Just hours ago, the Goophone i5S – presumably a knock-off of the yet-to-be-announced
iPhone 5S
, was made available for purchase. And judging by what we see in the video below, the fake looks pretty close to a genuine Apple smartphone, albeit seemingly being a tad thicker.
Under the hood of the Goophone i5S runs a 1GHz, dual-core MediaTek SoC paired with 1GB of RAM and 8GB of storage. There's a 4-inch, 854 by 480 pixel display on its front, which thankfully uses capacitive touchscreen technology instead of the less-accurate resistive one. You also get a 5MP rear camera and a 1.3MP snapper up front. What appears to be iOS is actually a modified version of Android 4.1.2 Jelly Bean. Overall there's nothing on the Goophone i5S specs sheet that can impress us, but you can't really ask for much more out of a phone that costs $150 unlocked.
But even though it costs so little, the Goophone i5S should probably be avoided, unless you really want to make people around you think you actually own a real iPhone. The build quality of these knock-offs is often sub-par so you never know when it might just fall apart in your hands.