Google's Schmidt says Android models aiming for cheaper price point
10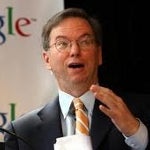 While the price for mid-range to top-line Android smartphones has been in the $200 to $400 area, we could be
on the cusp of a big price drop
. This is from the person who should know more about Google pricing than most anybody, Google Executive Chairman Eric Schmidt. According to a report to his clients, Ovum Research analystTony Cripps wrote "
Schmidt'sexpectation that Android smartphones will be available between $100-$150 bynext year already looks inevitable and will begin to redefine the handsetmarket as a whole. The eventual goal of seeing the price of Android devices broughtdown into the $70 range also looks realistic to us with the advancement oftechnology and huge economies of scale that are starting to drive the Androideconomy
."
Gartner analyst Ken Dulaney notes that Nokia is already offering Symbian powered smartphones at the lower price and that as long as there are customers shelling out $400 for a pair of Nike Air Jordan sneakers, there will be people willing to pay $200 for a smartphone. It's one thing to sell handsets at a low price, but can a company make money at that level? Current Analysis analystAvi Greengart brought up the point that Nokia makes
nice profits on its low priced featurephones
and as that market slowly moves to smartphones, profits can still be made. Greengart says that this low margin game isn't for every OEM. He says manufacturers that want to assure themselves of high margins should stay out of low margin areas, a
game plan used by Apple,
notes the analyst. "
Apple is slowlypushing down into lower price tiers, but is doing so at its own pace and is notchasing market share or unit volumes if it can't get the margins it wants
," said Greengert.
The Current Account analyst also believes that carriers should be happy about lower priced hardware because it leaves the customer with
more money to spend on the carrier's data plans
. As for Google, Eric Schmidt seems to be on the right path. Lower priced handsets mean huge growth in Android users which means more viewers for mobile ads which means more money in Google's pockets. In fact, our old buddy from Piper Jaffray, Gene Munster, sees Android business reaching $4.5 billion in 2012, up an incredible 80% from 2011. As Ovum Research's Cripps comments, Android's amazing growth thus far may seem modest when compared to what happens in the future.
source:
eWeek