Google's 3D Touch update won't be ready for Android N
68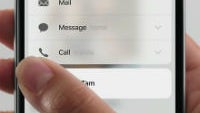 Android has technically supported pressure sensitivity in touch displays since Android 2.0 Eclair, but it has been inconsistently implemented in hardware and developers never took advantage of the feature. Some claim it adds complexity without offering much in terms of functionality, but since Apple introduced 3D Touch, the conversation has changed.
The general expectation has been that Google would be
updating pressure sensitivity support
and making it more like 3D Touch in the next version of Android. Documentation for the on the
second Android N preview
that Google released even included mention of the feature. But, now the word is that it won't be ready in time for the official launch of Android N, expected later this year. Google has not officially commented on the matter.
Maybe we'll hear a bit more about the plans at Google I/O next week, but even that is unclear right now. There is expected to be a new version of the Android N preview released at Google I/O, so even if Google doesn't specifically comment, we're sure the code monkeys out there will find clues in the software itself.