Googler shows off slightly deranged original Android mascot
16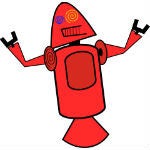 The lovable green robot that we all know and love wasn't always the mascot for Android apparently. At least, that's the story from Googler Dan Morrill, who told a story today on Google+ about how he had designed another set of mascots for the platform early on, which were affectionately called the "Dandroids". As Morrill openly states, he just put these designs together as filler for an internal presentation to developers working on the various Android APIs.
We don't know about you guys, but we find something a bit deranged about the Dandroids. It's probably something to do with the swirl eyes. There is something disconcerting about those eyes, not like the calm, soothing eyes of the Hypnotoad.
Either way, as Dan says in the post (and we agree), it was probably a good thing that Google went to a professional designer, Irina Blok, for the green bugdroid that became the Android mascot.