Here's why Google Maps is still better than Apple Maps
33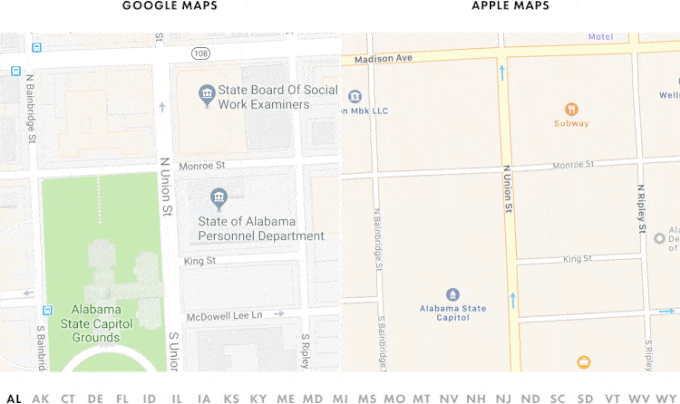 Level of detail in Google vs Apple Maps
Apple Maps had a
rough start
, but then the company started pouring a lot more resources (and thinking) into improving it so that it is now perfectly usable for your day-to-day navigation purposes. Heck, six years after its introduction, the Apple Maps app is now
starting to collect its own data
, with a fleet of vehicles equipped with cameras and LIDARs flooding the streets of California to take their own view on things, instead of relying on third-party mapping data.
The problem? Well, that's still six years behind Google, whose Street View cars have been recording the surroundings from Vancouver to Vladivostok for eternity, and has now launch a big project of updating them... yet again. Looking for a restaurant on a Sunday afternoon? Google Maps. Shoe repair for your broken heel? Google Maps. How to get from the airport to the suburbs on public transit? Well, here's the next one departing in two minutes around the corner.
You catch the drift, but Google Maps is still way ahead of Apple in the navigation game, and the latest user survey comes to prove it. Market researchers from the Manifest took the two apps to task, and asked around to see which one is more popular and why. It turns around that Google Maps plus Waze (again Google-owned) hold a vast 79% usage share, followed by Apple Maps with 11%. Burn.
That's not all, though, as, when asked why they prefer their first navigation choices, the respondents cited a litany of features that Google does better, such as clearer directions, more useful features, better interface, bike and pedestrian options and so on, outgunning Apple Maps in almost every important category imaginable. If you have never used Apple Maps, and wonder how much better the mapping and directions could be, just take a peek at the level of detail that state capitals were presented with on both platforms above.