Google to release YouTube app for kids, app will launch as an Android exclusive on February 23rd
13
A report published on Thursday reveals that Google will be launching a kids' version of its YouTube app. Titled "
YouTube Kids
," the app will be available from the Google Play Store starting on February 23rd. Initially, at least, YouTube Kids will be an Android exclusive. The app was developed in response to both requests from parents, and evidence that family entertainment is taking off on YouTube.
According to Shimrit Ben-Yair, the group project manager of YouTube Kids, Google was seeing 200% year-over-year growth in the viewing of family entertainment on YouTube. That is quadruple the overall growth of viewership on the app. Google relied on in-house engineers with kids to help design the munchkin-friendly version of YouTube.
A leaked photo of the app shows five icons including a YouTube like screen for viewing kids television shows like
Sesame Street
,
Reading Rainbow
,
Thomas the Tank Engine
and
Yo Gabba Gabba
. There is also a radio icon that when pressed will give the kiddies a chance to view music videos of the songs they like. A light bulb icon is employed for educational videos, and pressing the binoculars icon allows the kids to check out top videos relating to various subjects.
If junior tries to search for a video on a more adult subject, he will see a message that reads "Try something else." And parents can set a timer that limits their children's use of YouTube Kids. Once the timer goes off, the app shuts down and can't be restarted without entering a password that presumably only mom and dad would know.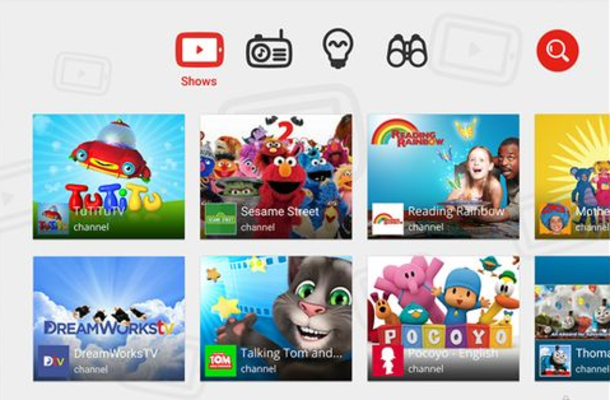 You Tube Kids is coming to Android devices on February 23rd
source:
USAToday
via
AndroidCentral