Google to purchase Frommer's, wants to boost its travel and local search
8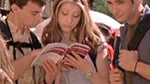 For those of you who don't travel (and haven't watched Eurotrip) Frommer's travel guides are popular books that let people plan what they want to do on a trip. Notably, they include lots of reviews and information about hotels, as well as popular tourist destinations. That's the sort of information that has long been expected in printed travel guides, but can sometimes be a bit thin when using mobile apps. Presumably that's why Google is moving to purchase Frommer's from its publisher, John Wiley & Sons.
The purchase is being reported by the Wall Street Journal, and it apparently has not closed yet, but is expected to be finished "shortly". A representative from the publisher also confirmed the upcoming sale. We expect that this carefully curated information will be integrated with user-generated recommendations from
Zagat
, which Google bought last fall.
Outside of improving travel searches and local
Google Now
-style recommendations, this would also give Google a lot of original content for its knowledge graph. Right now much of that information comes from Wikipedia, but Google would probably prefer to have its own sources of information, especially about things that can be monetized (as reviews for hotels, restaurants, and tourists traps easily can be).
At this time it's not clear whether Google will swallow up the Frommer's brand entirely, if it will exist but only in a digital incarnation, or if Google will continue printing the travel guides on the pulped remains of dead trees, but we'll be sure to update this if an official statement becomes available.
source:
WSJ
via
The Verge
Recommended Stories