Google talks with Dish to start its own mobile carrier
44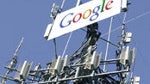 We've heard this before as more of an unsubstantiated rumor that Google wanted to start its own wireless carrier, but now word is coming out that looks to be more concrete on the subject. Apparently, Google has been in negotiations with Dish Network, which point to a very real possibility of Google as a mobile carrier.
The report comes from the
Wall Street Journal
, which says that the talks haven't gotten too far, and may not lead anywhere. But, Google and Dish Network have been negotiating a partnership to start a wireless carrier to compete with Verizon, AT&T, and all of the other mobile carriers in the US. Google is apparently in an "exploratory stage", and has talked to a number of companies about a deal. So, even if the deal doesn't go through with Dish Network, Google is trying a number of ways to do the same thing: become a mobile carrier.
This could become quite an interesting story, or it may not lead anywhere. We'll keep on top of it and let you know.