Apple share price hits $700 for the first time ever
72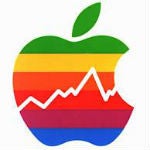 Whether or not you like Apple products, it's hard to argue with the company's balance sheet. It is a ludicrously profitable company and that has pushed the stock price to levels unseen in Apple's history. The stock price passed $700 for the first time today, just over one week after Google hit that same milestone.
Google hit the $700 mark on September 7th, which was the first time the company had traded that high in 5 years. The stock fell back below $700 before reaching the mark on the 13th and staying above since. Google finished today trading at $709.98.
For Apple's part, it hit the $700 for the first time in company history today, although it fell back and finished the day at $699.80. Of course, as we mentioned, Apple is a revenue machine, and while Google has been trading steadily at a high price for a while, Apple has been on the rise. As of November 25, 2011, Apple's stock was trading at $370, which means it has risen $330 in less than 9 months.
Additionally, Apple's market cap is far higher than Google's. Google may have finished the day with a stock price over $10 higher, but because it has far fewer stocks issued, Google's market cap is $232.19 billion, compared to Apple's market cap of $655.98 billion (for additional comparison, Microsoft has a stock price of just $31.21, but a market cap of $261.65 billion, because it has so many stocks issued.)
Impressive numbers from Apple, especially given that many questioned the ability of the company to thrive without Steve Jobs. Granted, it may be too soon to say that Steve's fingerprints are completely off the company, but Tim Cook has certainly been doing a solid job.