Google starts a home try-on service for Glass
19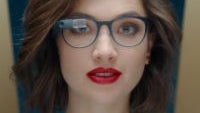 Have you wanted to try Google Glass before committing to pay $1500 for one? If so, then this story will likely be somewhat disappointing, because that's not really what Google is beginning to offer. Instead, Google is starting to offer a home try-on service for Glass, which will allow you to see which color and which prescription lens frame works best for you.
So, this is really a program for the few of you out there who already know that you want to buy Glass, but you wear prescription glasses, and anyone who wears glasses knows that you almost never want to buy a pair sight-unseen. These are things that have to be on your face all day, every day, so you have to make sure they look good. With that in mind, Google has started a program where it will send you non-functioning Google Glass devices in Charcoal, Tangerine, Shale, and Sky, as well as all of the Titanium collection frames.
Google will put a $50 hold on your credit card and you have 10 days to try out the various options, make your choice, and send it all back to Google. Of course, you likely saw the words "non-functioning Google Glass" in the last paragraph. That's right, Google will not be sending you $6000 of functioning devices for just a $50 credit card hold. The devices will have the USB ports destroyed, leaving the devices inoperable. We'd assume that more is done internally to make sure the devices don't work, in case you're thinking of getting some and repairing the USB ports, because some devices have been able to power up, but won't boot into Android. Also, some devices have had non-functioning displays as well.
So, you should be able to try on the devices and see what looks best, but there is little chance that you'd get a device that could be brought back to life. This is assuming that you can even get into the program. Right now, there is a phone number set up where you call to get your try-on units, but it is invite only and it is unclear how to get an invite.