Google secretly acquired Android smartwatch maker WIMM last year
11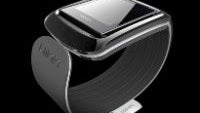 We have known that Google has been working on its own
smartwatch
, and at the very least it is working towards optimizing Android for use on smartwatches. But, it seems that Google has been working on this longer than we have known. A new report is saying that Google secretly acquired Android smartwatch maker WIMM sometime last year.
The way this whole thing has gone down has been pretty interesting. WIMM released its first Android smartwatch, the WIMM One, back in 2011. The device got some positive reviews. Then, last summer, WIMM suddenly went quiet except for one statement saying that the company had "entered into an exclusive, confidential relationship" and would not continue with its current product line. A Google representative has confirmed that it has acquired WIMM, and it is assumed the deal happened when WIMM went quiet, but no one knows for sure.
What makes WIMM even more interesting is that the company didn't just make hardware, but also put together a platform to help developers create what it called "micro apps" for the devices. The app store is still accessible on the web and shows off a couple dozen apps.
There isn't much more info on what is happening, but it is very interesting that Google brought in a talented team to work on the company's own smartwatch efforts. It's unclear when we'll get more info on what is happening inside Google, but we're definitely excited to hear more.