Huge goof by Google drains Fi subscribers' bank accounts
12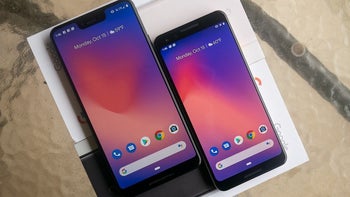 When is a 50% sale not a 50% sale? The answer is when Google accidentally screws it up. Last month we told you that hybrid MVNO Google Fi celebrated its fourth birthday by
holding a one-day half off sale on the Pixel 3 and Pixel 3 XL
.
According to the Google Fi support page
(via
Android Police
), many of its subscribers who bought one of the latest Pixel models on the day of the sale were accidentally charged the full price of the phone. This caused some to be hit with overdraft fees of $100 or more from their bank. These fees may never be reversed if Google issues a simple refund.
UPDATE:Google has sent an email to all of the Fi customers invovled in the mix-up with refunds promised in 1-2 days. In addition, Google is placing a $10 credit into the Fi accounts belonging to subscribers who were incorreclty charged for a Pixel 3 or Pixel 3 XL. The email, which follows, doesn't mention any reimbursement for bank overdraft charges that customers were hit with after being incorrectly charged the full price of the phone they purchased. The email reads:



Hi there,

You recently purchased and financed one or more devices from fi.google.com, and we incorrectly charged you for the full amount of your Google Fi device(s). We have refunded the incorrectly charged amount, which you should see refunded back to your payment method within 1–2 business days. Any additional, correct charges, such as taxes, Fi service, and extra items added on at the time of purchase, will remain charged to your account.

We sincerely apologize for any inconvenience this may have caused, and we are crediting your Fi account $10 for the disruption. You'll see this $10 credit applied toward your future Fi bill(s).

Thank you, —the Google Fi team
Under the terms of the sale, which was held on April 22nd, pricing for the
Pixel 3
and
Pixel 3 XL
was as follows:
Pixel 3 64 GB - $399 (usually $799)
Pixel 3 128 GB - $449 (usually $899)
Pixel 3 XL 64 GB - $449 (usually $899)
Pixel 3 XL 128 GB - $499 (usually $999)
On Reddit
, there are quite a few pissed off Google Fi subscribers, some of whom were not even notified about the screw up by Google. Others had the transaction adjusted but still were charged tax based on the full price of the phone. And there could be an even bigger issue for Google Fi subscribers. If they complain to their bank too much about Google's error, their account can be flagged by Google for security reasons. And that could lead them to get locked out of Google Payments. If that occurs, they won't be able to pay their Google Fi bill, and they won't be allowed to port over their number to another carrier. That might not be a big deal to many, but some consumers have had the same phone number for years.
Google says that it is aware of the error and "is actively working on a fix." Anyone who has ever tried to get an overdraft fee waived by their bank knows that Google has its work cut out for it.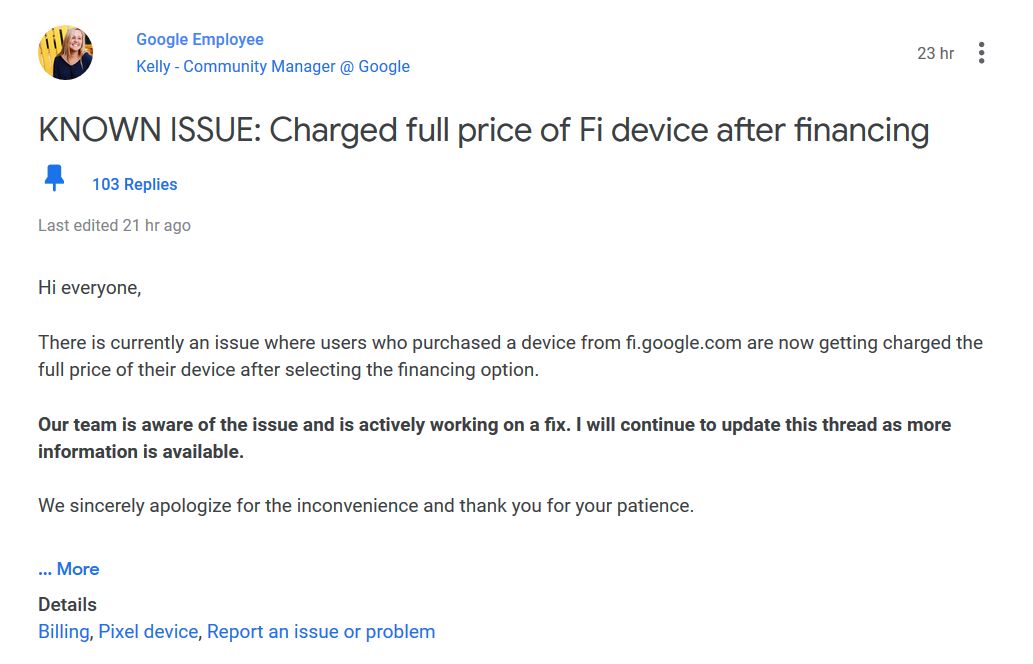 Many Google Fi subscribers were charged full price during a one-day 50% off Pixel 3 sale