Google says device given to employees is not the gPhone but is a mobile lab
This article contains unofficial information.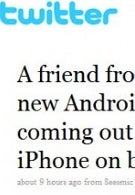 Earlier today, reports were coming in about the Google phone getting handed out to amazed Google employees. The latter group sent out Tweets raving about the phone with one calling it an iPhone on steroids. The entire cellphone community was crackling with electricity about what appeared for all the world to be the next iPhone killer (although the DROID still has some time left to wear that hat). The phone is manufactured by HTC, runs Android
2.1
and according to one Google employee, it has animated desktop wallpaper. It looked like a home run-nay, a Grand Slam for Google. Except for one itsy bitsy little matter. The phone in question is NOT the Google phone according to the company and is a "mobile lab" used for testing software. The big guns at Mountain View got wind of what was being said about the handset and said that the "handouts" were simply a way to test "innovative hardware from a partner with software that runs on Android to experiment with new mobile features." Of course, the fact that their own employees identified the phone as THE Google phone means that no matter what Google says about tests and third parties, the hardware has been called the "gPhone/Google phone" by those who should know.
In the official response from Google, the company says that this process is done so that Google employees can test new products and technology designed by the company, similar to eating your own dog food (which is why the process is called dogfooding by the firm). The hardware is a mobile lab designed to run innovative software created by Google partners on a Android OS to check the new features and capabilities. This package of the mobile lab hardware loaded with the software being tested was what was handed out to employees, according to the statement. Google says that because dogfooding is a process limited to Google employees, the results will not be made public. Let us ask you this important question. Is there anything in this scenario that prevents the hardware and software from being the Google phone?
source:
Phandroid
(Employees get gPhone),
Phandroid
(Google says it's a mobile lab)