Google releases Field Trip, a virtual-tour and discovery app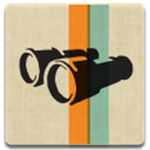 Google-owned Niantic Labs launched Field Trip today, a very interesting app for Android (iOS coming soon) that is designed to let people discover cool and interesting things anywhere they are (as long as they are in the US for the time being). When you install the app you tell it how intrusive you want it to be in terms of notifications, and you can also tell it what sorts of topics you find interesting. The app then uses geolocation to discover historical sites, famous architecture, fun places to eat, and other things you may have missed.
A brief testing of the device suggests that it's quite comprehensive – on top of the expected local haunts the app discovered an unmarked(!) historical site in a local public park that we weren't aware of. The app allows you to give each find a thumbs up or down rating, and it uses that information to better tailor its discoveries for you. In a way this app is like a specialized Google Now implementation, although the app interface itself feels like a nicely hand-crafted UI rather than the one-design-fits-all white background of Google Now.
If you're the adventurous type and want to find the unique out of the way points of interest on your next trip, or even just around town, hit up the source link to give Field Trip a shot (or put yourself on the iOS notification list). Google also released a promotional video for the app, which is shot with a lovely sentimental feel, but is somewhat short on the details of the app:
source:
Google
,
Play Store
via
Droid-Life