Google now offering the Nexus 7 with free shipping and a $25 Play Store credit
5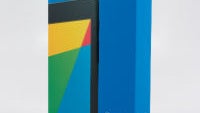 Black Friday is just a few days away, and that means a shopping frenzy that could get you physically injured if you were to go out to a store. Luckily, there are plenty of online deals, and many of them are just as good if not better than those you'll find in stores. Google wants to be part of the festivities as well, and has unveiled a deal for its Nexus 7 that starts today.
We've already seen other retailers
dropping the price
of the Nexus 7 recently, but Google isn't doing that. Instead, Google has announced that customers in the US and Canada (only) who order a Nexus 7 starting today will get free shipping (which can be fairly expensive in through the Play Store), as well as a $25 Google Play credit so you can fill up that tablet with apps, games, movies, music, books, magazines, or newspapers.
Had the deals through Best Buy, Amazon, and eBay not already ended, we would have suggested that this deal through Google wasn't as impressive as it would sound, because those other retailers had dropped the price to $199 with free shipping. That would have meant you'd have $30 to play with before getting to the $229 that Google is charging, and that $30 wouldn't be locked into the Play Store. But, Google's deal is the only one going right now, so it wins by default.