Google+ now offering mobile content recommendations for publications
3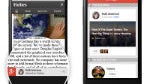 There have been recent reports that Google+ has been "struggling" to attract brands to its platform. Whether or not that is true, Google has historically looked to foster the publications and news outlets that have joined the platform, and a new feature is looking to make the network even more attractive by offering content recommendations.
The new feature will appear on mobile optimized versions of websites, and Forbes is the first partner. The recommendations will slide up from the bottom of the screen and will show other articles on your site that have been +1-ed by others on Google+ or content that is popular with those who use
Google+ Sign-In
, if your site uses it. The recommendations will show up regardless of if the reader is signed in to Google, but if they are, the recommendations will also show if anyone in their Circles have +1-ed other articles.
The recommendations sound pretty easy to implement, and will show up on all iOS or Android devices. No word yet on any other content partners, but given how easy it is to implement, don't be surprised if it shows up more and more.