Google might be prepping first-of-a-kind, standalone VR headset
16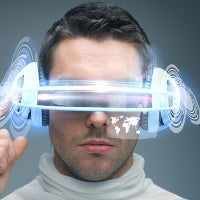 Virtual reality and VR headsets are a pretty hot topic right now. It seems that almost all of the more popular smartphone slingers either have or are rumored to be working on virtual reality headsets. Even
Apple
. One of the latter's major rivals, Google, has already made its baby steps in the VR field with the Cardboard VR headset, but it looks like Mountain View might be prepping a much more interesting one as we speak.
Rumor has it that Google could be secretly working on a standalone VR headset that won't rely on a compliant smartphone to work. It might not require a PC or any other smart device either. This would make this rumored gadget a pretty innovative one, as most current-gen VR headsets are not approached to as standalone devices, but more as accessories and functionality extenders of our phones and computers.
In order to be independent, Google's VR headset will need to come with a full hardware package. This means that it must have its own processors and sensors - the rumor mill tells us that these might be supplied by Movidius, one of the major manufacturers of
motion
chips and high-performance computational imaging devices. Additionally, Google's VR headset will certainly have its own display and will most likely employ a set of outward-facing cameras. That's everything the rumor mill has come up with so far.
As far as design and price are concerned, we know nothing so far, but one thing's for sure - it won't be as dirt cheap as the DIY $20 Cardboard VR headset. Rest assured that we will keep an ear close to the ground for additional info on Google's VR headset and if something pops up, we'll get back to you as soon as we can.