Google locks down Google Glass users after two hackathons
13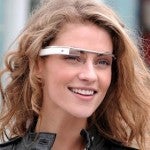 Earlier this month, we told you that Google is holding a pair of events for
those developers who shelled out $1,500 to purchase the Explorer version of Google Glass
. The first event will take place at the end of this month in San Francisco followed by another one in New York City at the beginning of next month. The developers will be taking part in these hackathons that Google is calling the
Glass Foundry
. The events will take place on January 28th and January 29th at Google San Francisco, and February 1st and 2nd at Google New York.
no one else will get to use them
. All video and images taken with Google Glass become Google property and any thing recorded usingthe device will automatically be uploaded to a special Google Plus account that each developer will receive. In addition, developers are being told by Google not to wear their Google Glass while walking down the street, driving or playing sports. And the developers will not be able to discuss anything about Google Glass with the media, or show images or video to anyone without express consent from Google.
It is possible that there will be a leak or two despite the restrictive non-disclosure agreement that must be signed and agreed to by the Glass buyers. The versions of Google Glass being handed out during the events are only for U.S.use and are for testing purposes only. Despite having Wi-Fi and Bluetooth ttansmitters and receivers, the FCC has not yet authorized Google Glass which means only those authorized to use them can test them. Google will "de-brief" users to get their feedback. Let's revisit this early next month to see if anyone decides to blab.
source:
readwrite
via
AndroidAuthority