Google hires Noah Falstein as Chief Game Designer
6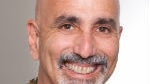 You may not recognize the name Noah Falstein, but you will definitely recognize the games that he has worked on throughout his long career in the gaming industry. Given Falstein's history, the fact that Google has hired him as the company's Cheif Game Designer makes it sound like Google has serious plans to produce more games in-house.
Falstein has been a designer and producer in the gaming industry since 1980 when he started working for Milton Bradley making games for the Atari. He has worked at LucasArts, 3DO, and Dreamworks Interactive; and in 1996, he started his own freelance game design and development consulting business called The Inspiracy. Through his career, he has worked on games like the Indiana Jones games from LucasArts Entertainment,
The Secret of Monkey Island, Empire at War,
and
Alan Wake
. This guy is the real deal.
The only indication that has come out that he now works for Google is that he changed his job title on LinkedIn. Right now, his LinkedIn profile lists his position as Chief Game Designer at Google, but
a cached version of his profile has his position as Chief Game Designer at Android Play Studio
. This makes it sound like Google is going to start producing more first party games for the Android platform.
Right now, the only game that Google has produced is the MMO called
Ingress
. Given that this hire hasn't even been officially announced, we certainly have no idea what Google's plans could be or what kind of games we should expect. It may not even result in traditional games, because one major focus of Falstein according to his website is "Serious Games", which he defines as "Using Games, Game Technology, or Game Industry Techniques for a purpose other than pure entertainment." This could be anything from using game mechanics to promote healthier living or education.
Recommended Stories