Google files trademark application for Nexus One
This article contains unofficial information.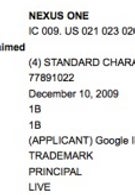 With more proof coming in everyday that the HTC Nexus One is a Google Phone, perhaps the best proof has come in the form of an intent-to-use trademark application by Google for "Nexus One". This means that the Mountain View firm will have to use the name for business at some time in the future. But this only proves that tjhe device is a Google phone, not necessarily THE Google Phone. None other than Mobile-Review Editor-in-chief Eldar Murtazin says that the Nexus One is a HTC Passion running Android
2.1
and is a Google phone only in the sense that any Android phone running Google's open source OS is a Google phone. Of course, this is what Google itself has been saying from the first moment that word leaked about the Nexus One. Still, the drama continues and who knows what will happen tomorrow!
HTC Nexus One Preliminary Specifications
source:
USPTO
via
Androidos
(trademark),
Softpedia
(Murtazin)