Google filed for patent on Notification Bar in 2009, patent still pending
61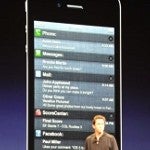 Android fans nearly had a cow when Apple introduced a
slide-down Notifications Bar
in iOS 5.0. After all, Android models have had such a feature dating back to the first Android phone, the T-Mobile G1. And with Apple litigators quick to defend the Cupertino based firm's patent portfolio, there are some who are questioning why Google doesn't retaliate with what looks like a slam dunk in court.
Google Patents shows a filing that was made by the Mountain View based firm back in January 2009. Application 12/363,325 seeks a trademark for "
A computer-implemented user notification method includes displaying, in a status area near a perimeter of a graphical interface, a notification of a recent alert event for a mobile device, receiving a user selection in the status area, and in response to the receipt of the user selection, displaying, in a central zone of the graphical interface, detail regarding a plurality of recent messaging events for the mobile device
." All fancy talk describing a Notifications Bar.
So why has Google's attorneys kept their hands in their pockets? Simple. Even though the filing was made in early 2009, the
patent is still pending
. So there it is. You can be sure that Google has an Army of well-paid lawyers just waiting and waiting and waiting for the day that the USPTO makes the patent official.
source:
Google
via
Phandroid