Google contest offers $10,000 reward for building cool Google Home and Assistant apps
2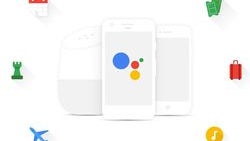 There's no denying that Google's Assistant holds lots of potential with its ability to interpret queries in plain English, but there's still room for improvement ahead of it. Something that should bring the feature to the next level are the so-called Conversation Actions, or simply "actions" as they're more frequently referred to.
Think of these actions as apps for the Google Assistant. The giant enabled them when it
opened its Actions on Google platform to third-party developers
last December. And as incentive to bring more developers on board, Google announced the Actions on Google contest at its I/O 2017 conference, with generous rewards going to those who build the best actions for the Google Assistant and Google Home.

Today we came across more details surrounding the contest – the most tempting reward for building great Assistant actions includes a ticket for the Google I/O 2018 event, a trip to the company's headquarters, and a hefty $10,000 to your name. But this is the grand prize only. In fact, there are more than 20 prizes to be won, including $7,500 and $5,000 awards, as well as Google Home devices. Of course, to have a chance at claiming these prizes, the developers must first create up to three interesting actions for the Google Assistant and then get them approved by August 31. There are 13 categories across which prizes are distributed, including one for the best voice-only interaction and best sound effects. To claim the grand prize, however, a developer's action has to be superb in every way to succeed.

Of course, that's great news for regular folks as well. Or at least for those using Google Assistant, that is. Clearly, the Actions on Google challenge has the goal of spurring developers' interest in Google's Assistant, so we will most likely see some really cool new examples of conversation actions in the next few months. And if you feel like giving the contest a shot even if you're not a veteran developer, Google is offering help through its api.ai web site, where one can find the key information about easily adding voice interface to their applications.