Google cheat code: unlimited free searches!
16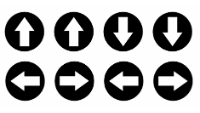 Google loves Easter eggs, this is not a new piece of information. Each new confectionary version of Android has an Easter egg hidden in the same place (so maybe "hidden" isn't quite the right word, and we've seen various Easter eggs in the
Google Play Games
app, as well as the
Google Search
app. Now, Google has another treat that has been added to Search.
We've seen Google use the Konami code before in Easter eggs for Google Play Games as well as the Chromebook Pixel, and now the Konami code (or at least part of it) can be used to get an Easter egg in Google Search. If you do a voice search for "up, up, down, down, left, right, left, right", Google will speak back "Cheat mode unlocked. Unlimited free Google searches."
Of course, Google searches are free (not counting ads and personal data) and unlimited anyway, but it is still a fun trick. The video below shows it being done in a desktop browser, but the egg is also available on mobile in Google Search for Android and iOS (Windows Phone doesn't speak back to you, so it doesn't exist there.)