It turns out Google Now can't help to Beam you up (Easter egg video)
5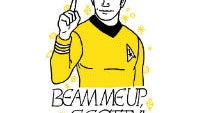 We all know how much Google loves to add in little Easter eggs in various products, especially when those Easter eggs have very geeky roots. We've seen the
Konami code
put into use and references to
Hitchhikers Guide to the Galaxy
; and now, a new Easter egg has been found that gives a not to
Star Trek
and one of the most famous lines that was never actually uttered.
When it comes to
Star Trek
, the most famous phrase (or at least the most widely repeated one) is Captain Kirk saying, "Beam me up, Scotty." Of course, Kirk never actually said those words in that order throughout the entire TV series or any of the myriad Star Trek movies. But, that doesn't matter here, because Google has added in a fun little response to Google Now when you ask to be beamed up.
The responses in Google Now have always been very straightforward, and haven't had any of the personality that Apple has worked so hard to add to Siri; so, this is an interesting addition to Google Now. The service itself is amazing, and we'd say it is also flat out better than Siri, so adding in a bit of personality couldn't hurt. And, this is the perfect start given that Google Now was
codenamed Majel
, which was a reference to Star Trek creator Gene Roddenberry's wife, Majel who was also the voice of the ship on the show. The absolutely terrible Scottish accent used for the response is really what we love the most.
thanks to the tipsters who let us know!