Google announces Google Play Games Services with cross-platform gaming
11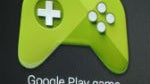 We had heard that Google was working on a platform called Google Play Games, and the official announcement has been made. The platform comes in the form of a number of new APIs under the heading of Google Play Games Services, and it will offer all of the features that we came to expect based on various APK teardowns, but the real surprise is that
Google is releasing the APIs for iOS and the web as well for true cross-platform gaming
.
As we expected from the
leaks
and APK teardowns, Google Play Games Services will offer Cloud Save, which allows for syncing game saves across devices, public leaderboards, achievements, matchmaking, and multiplayer. As we expected, the leaderboards, and matchmaking for multiplayer will be managed by Google+, so you have one more reason to get into G+. The only feature that had been rumored that Google didn't specifically mention was in-game chat, so we'll have to keep our eyes out to see if that really will be made available.
We've compared this service to Xbox LIVE before, and that is mostly because, like LIVE, Google Play Games has Google servers doing the heavy lifting for the networking and multiplayer. As Hugo Barra put it: "We're going to deal with all the hard networking problems and do all the work for you."
There was an attempt at demoing multiplayer in Riptide 2, but the connection couldn't be made. Barra blamed it on the overloaded network in the Moscone Center, and we're hoping that really was the issue. Google has already pulled in a number of big name developers to Play Games Services, including Miniclip, Glu, Omni, Noodlecake, Gameloft, and more.
Google Play Services will begin rolling out today to all Android devices running Android 2.2 Froyo or higher. No word on when APIs would be available for iOS or the web.
source: Google
images via The Verge