Google and Audi working on Android car systems
11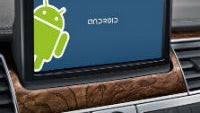 There has been plenty of talk recently about Apple's move to bring Siri and iOS to in-car systems, but obviously there was eventually going to be competition. A new report from
The Wall Street Journal
is saying that at CES next week Google and Audi are planning to announce in-car systems based on Android. The report says that the plans are surrounding "in-car entertainment and information systems", and the plans don't stop with Audi.
Google is also working with NVIDIA and other automotive and tech companies to bring Android to in-car systems, complete with music, navigation, and all the apps and services that you would expect from Android. Google already provides Google Maps data and navigation to Audi as well as Toyota and Tesla Motors. Thilo Koslowski, an analyst for Gartner said of the move:
The car is becoming the ultimate mobile device. Apple and Google see that and are trying to line up allies to bring their technology into the vehicle.
Last June, Apple announced its "iOS in the Car" initiative, and has since gathered the support of various car makers, like BMW, General Motors, and Honda. Honda has
already started
rolling out cars with Siri and iOS integration, but there is no word yet on when to expect cars with Android built-in.