Apple and Honda reveal Siri Eyes Free mirroring system for 2014 lineup
12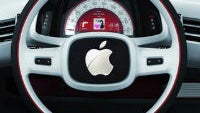 With the rise of voice command systems in cars, it seemed inevitable. Then at the 2012 Worldwide Developers Conference, Apple announced that it would be partnering with various car manufacturers to integrate Siri as that voice command system. The feature already has been integrated into a handful of vehicles from Chevrolet and others, and now Honda is set to expand the reach of Apple's Siri Eyes Free system.
Honda has already announced the 2014 Civic which will be the first Honda to integrate Apple's system, and Siri Eyes Free is planned to expand to more 2014 models. The interesting part is that it is planned to be a full in-car mirroring system, and not just voice command. The full story on the new features is planned for the first week of December, but we already know that the Civic will feature a 7-inch multitouch display.
We're quite interested to see exactly what this "mirroring system" could entail. Apple is already working with Audi, BMW, Chrysler, General Motors, Jaguar, Land Rover, Mercedes-Benz, and Toyota on expanding the integration of Siri.