Google Wallet goes live with major retailers: pay with your phone, get a discount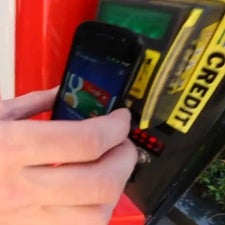 Google Wallet has finally gone live
with major retailers and experimenting with it you can get sweet deals with discounts of around 10% to 15% for select goods at merchants such as Macy's, OfficeMax, Toys"R"Us, Foot Locker, American Eagle Outfitters, the Container Store, Guess and Jamba Juice.
In addition to buying goods with Google Wallet, you can also
redeem coupons
and earn reward points.
It's pretty
simple to use
it - you just tap your phone to the cashier's desk where everything has been enabled to support NFC. For that tap, though, you'd need an NFC-enabled handset like the Nexus S.
Chevron, D'Agostino, Faber News Now, Gristedes Supermarkets and Pinkberry are among the stores to get equipped with NFC-capable terminals, so it's a good start, but the Wallet is far from mass adoption. Would you be willing to try mobile payments on your device?