Google VP again says Motorola is 'just like HTC or Samsung' to them
35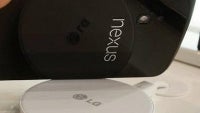 Not that we haven't heard this before numerous times, but Android's VP of Engineering Hiroshi Lockheimer did take to the airwaves in an interview to confirm again they are not playing favorites with Motorola against the other Android makers: "
We treat all of our partners fairly. Motorola we consider a partner just like HTC or Samsung. It's almost as if they are a separate company
."
That doesn't sound much like firewalling to us, and if the
rumored existence of the Motorola X Phone
is confirmed come May at the Google I/O conference, then all bets seem to be off. Not that Google and Motorola have any chance of the scope that Samsung commands over the Android market, but they can still bring something sought-after and exclusive along the lines of the Nexus brand, so things are about to get even more heated this year.