Google Stations to bring free, safe and reliable Wi-Fi to places all over the world
2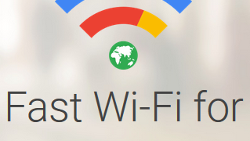 Started as a way to provide internet connectivity in India via Wi-Fi to ultimately 400 train stations, Google announced on Monday
Google Stations
. This will give Google's partners the tools to make it easy to provide Wi-Fi hotspots in public places, not just in India, but throughout the world. According to Google, the idea is to help people come together by offering great Wi-Fi connectivity "inside...malls, bus stops, city centers, and cafes all around the world." As a result, "millions more people will be able to learn, play, chat, work, and find the information they need."
Last year, Google entered into a partnership with Indian Railways and RailTel. Under the terms of the deal, 400 railway stations in the country will eventually be outfitted with Wi-Fi hotspots by Google. Currently, 50 stations feature the service, providing internet connectivity to 3.5 million people each month. Google will provide its partners with the software and the know-how to turn fiber connections into fast, safe and reliable Wi-Fi.
Google Stations joins YouTube Go, a version of the popular YouTube streaming video app that is designed to save on data consumption. With YouTube Go, videos can be previewed first before they are viewed. Clips can be shared with nearby friends and family without using any data, thanks to the app. Users can choose to play videos in low resolution and learn how much data a particular video will cost a user to view, depending on the resolution chosen.
While Google Stations has already made its debut in India, and YouTube Go will follow suit, Google is adamant that both will be launched world wide.
source:
GoogleStations