Google Play news: Wish lists and Google Calendar app
4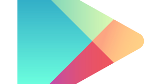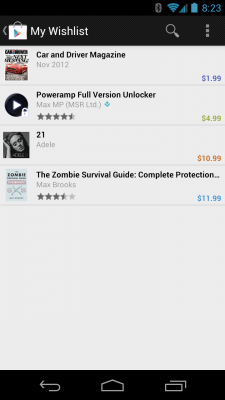 The new wish list feature for Google Play Store
The Google Play Store has been a treasure trove of news on Wednesday, including the story we passed along this morning about
purchasing credits directly on the Store's full website
. The next story about the Google Play Store involves a
new wish list feature
that lets you create a list of the apps you want. Simply bookmark that app you're dying for, and it will automatically save on your wish list. Unfortunately, at this point there is no way to send your list on to the person you need to read it, which is the person with deep pockets that you hope will pay for those apps you want. Actually, you are not limited to apps. You can add video, tunes and books to your wish list. Just realize that for now, the list is only to remind you what you want from the Google Play Store.
Another piece of news involving the Google Play Store revolves around the
Google calendar app
which is now available for you to install on your Android phone if you don't already have it. Many Android models, as you can guess, have had the stock Google calendar replaced by the OEM. The Google Calendar app is the one that you would find on a Nexus model.
Some of the additional features include the ability to snooze events from a notification if you're not ready to get up yet and want the alarm to go off later. You can have "I'll be late" messages automatically sent to your event participants under certain circumstances and pinch-to-zoom can be used to move in and out of a day. Lastly, the Google calendar app allows you to set a home time zone to help you better handle your planned events more efficiently while traveling.
There are some caveats. HTC devices don't seem to want to work with the app and you need to be running Android 4.0.3 or higher.
source: AndroidCentral (
1
), (
2
)