Google Pixel 3 vs Pixel 3 XL: battery life
16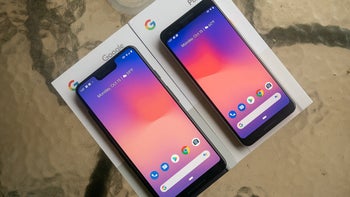 The new
Google Pixel 3
and
Pixel 3 XL
are the product of a seamless integration between hardware and software, a showcase of how fast and smooth an Android phone can be, plus they feature two of the best phone cameras out there. Let's compare the Pixel 3 vs Pixel 3 XL battery life.
How about battery life though? The smaller Pixel 3 features a 2,915 mAh battery and comes with a 5.5" OLED, 2280 x 1080-pixel screen, while the larger Pixel 3 XL sports a larger, 3,430 mAh battery, but also has a 6.3" OLED screen with a more taxing resolution of 1440 x 2960 pixels.
In an age of growing battery sizes, these batteries are actually smaller than what the competition offers, so you might be worried whether they are good enough.
That's where our proprietary battery test comes to help: we now have the Pixel 3 and Pixel 3 XL battery life results and you can compare them to other phones below:
Interestingly, the new Pixels both score lower than last year's models in our test, but what's even more interesting is that the larger 3 XL model has a lower score than the Google Pixel 3. This is strange because the larger Pixel has a bigger battery, but what comes into play here also is the higher resolution and bigger power draw from the larger screen that obviously takes more power.
And in comparison to the rest of 2018 flagships, the Pixel 3 series are also slightly below the average. The Pixel 3 vs Pixel 3 XL battery life comparison follows below.
There are no surprises when it comes to the time it takes to charge up these phones from 0 to 100%. Both come with fast, 18-watt chargers in the box and both wall chargers support the new Power Delivery fast-charging standard.
The Pixel 3 and 3 XL both take around two hours to fully charge, with the XL being slightly slower due to the larger battery cell.
Are you surprised by these results? And are they good enough for you? Let us know in the comments right below.
Recommended Stories