Google Pixel 2 XL hands-on
30
We are down to the wire! The holidays are just right around the corner and nearly every major manufacturer has announced its lineup for the impending season, with the exception of good 'ol Google. Well, the time has finally come, as the search giant unveiled its successors to its highly popular Pixel phones. Similar to last year's approach, we're given two brand new devices to choose from – the smaller Pixel 2 and the larger Pixel 2 XL.
The Pixel 2 XL will be scrutinized moreover because it's the larger of the two (with slightly better specs), but what's different here versus last year's offering is the manufacturer behind the scenes. Gone is HTC, shockingly replaced instead by the folks over at LG. For the Korean company, they've already astounded many critics with its V30, but does this XL-sized smartphone have what it takes to tangle with the other giants in the space? Given the options out there, like the LG V30, Samsung Galaxy Note 8, and iPhone 8 Plus, the Google Pixel 2 XL has a tough road ahead in standing out and needs to be convincing to stand a chance.
Design
As we've noted here, the manufacturer of this year's Pixel 2 XL is LG. From the front, it follows after the LG V30 in similar fashion with its tight bezels and all-screen in-your-face design – a trend that has no doubt caught on! There are even the same sloping curves of the display that gives it a slightly more comfortable feel in the hand, making its predecessor appear flat in comparison.
Flip around the phone, however, it draws from what the Pixels established last year with its glass meets metal obstruction. Obviously, it's a design cue that makes it distinctive to the Pixel line, but what's odd is that the so-called metal body employed here feels a bit more plasticy in reality – resulting in a phone that doesn't feel as premium compared to the competition. Even though that won't be a deal breaker for some, it's still something noticeably different from last year's offering.
Despite that, we do appreciate that the Pixel 2 XL now offers an IP67 construction for water and dust resistance. That's fantastic news, as this has become a common theme amongst all high-end phones of late. Another particular design change we're glad to see is the addition of dual front-firing speakers. While that's fine and dandy, it still should be worth noting that the design continues to forgo the headphone jack – and wireless charging is unfortunately still absent.
Display
What makes the Pixel 2 XL different from its sibling in the Pixel 2 is its larger sized display, which in this case is now a 6-inch 1440 x 2880 POLED display. Following the trend we've seen of late, it features an 18:9 screen aspect ratio, giving it that super widescreen appearance. So far, we can't complain about this change, since it's highly detailed, offers wide viewing angles, and colors don't appear to be overblown or saturated.
Better yet, the screen aspect ratio pairs well with those new dual front-firing speakers – giving it more of a drawing factor when it comes to watching videos. There's plenty to love about the display here, which Google claims to achieve an even wider color gamut. Taking into consideration the larger size, higher resolution, and screen aspect ratio, there's no denying that the Pixel 2 XL draws more attention with its display over the Pixel 2. Compared to other phones, though, that's still questionable. Time will tell!
User Interface
Being a Pixel smartphone and all, there shouldn't be any surprises here with the software. It's running stock Android 8.0 Oreo, and for the most part, the clean and intuitive interface is something hardened Android fanatics will be familiar with. Interestingly enough, while the hardware improvements to the phone are always appreciated, there are in actuality more noteworthy things found with the new software experience. This new commitment is profound to say the least!
Most of the Pixel 2 XL's software features are discrete, but those with a keen eye will notice a few of them. For starters, it's wonderful that Google Assistant helps us keep up-to-date with the new "at a glance widget" on the homescreen. It'll display relevant reminders that'll ensure users they're constantly up-to-date with whatever's on tap with their schedules. Secondly, the always-on display feature eliminates the need to search who's singing a song, as it's constantly listening and determining that.
And while it might come off as a novelty for some, the new squeeze feature allows you to instantly initiate Google Assistant at a moment's notice! It's unknown yet if this is something that can be customized to do something else, much like the HTC U11's interpretation. There are several other things that strengthen the core software experience here, like the new smart functions with Google Lens, which helps to eliminate some of the hassles we have using our phones – like copying and pasting email address from a message.
Processor and Memory
Much to everyone's delight, the Pixel 2 XL leverages the Snapdragon 835 CPU paired with a generous 4GB of RAM. This should be of no surprise, given that all high-end phones leverage the same hardware. In our brief time handling the phone, it exhibits all the smooth and buttery responses we crave in any high-end smartphone. Add to that, too, it manages to deliver a responsive VR experience without any hiccups to the frame rate. And finally, given that it's stock Android we're dealing with here, it's optimized to ensure that responsive consistency remains through the life cycle of the phone.
If there's another annoyance that's shared by many, it has to be that the Pixel 2 XL doesn't offer any sort of storage expansion – so you're stuck with dealing with its internal capacities of either 64GB or 128GB. Yes, it's wonderful that Google Photos offers unlimited storage for images at "high-quality," but that's still no consolation for the fact that there's no room for expansion locally.
Camera
You'd think that the Pixel 2 XL would've been given a little more love in the camera department, but it actually is slapped with the same exact hardware found in the Pixel 2 – a single 12MP 1/2.6-inch sensor with an f/1.8 aperture, OIS, and dual-pixel autofocus. We didn't spend a whole lot of time taking snapshots, but Google assures that it'll continue to deliver the same stunning quality as last year's phone! If there's one complaint we have with the camera, is that it doesn't offer nearly the same manual controls seen in other phones, but then again, the intent here is to quickly take snapshots on the automatic.
We spent more time trying out its new portrait mode, which applies that bokeh effect to background elements when snapping a portrait shot. Unlike its rivals that leverage two camera sensors to achieve depth and this particular effect, the Pixel 2 XL does it by analyzing every pixel in the image to isolate the subject from the background. Essentially, this effect is achieved by the software – and we're impressed by how well it's able to do it. There might be a few seconds needed to process the image soon after it's captured, but the end result is pretty impressive given it's done via the software.
While the original Pixels were already renowned for their performance and quality in all sorts of shooting conditions, you can bet that the Google Pixel 2 XL will follow in accordance!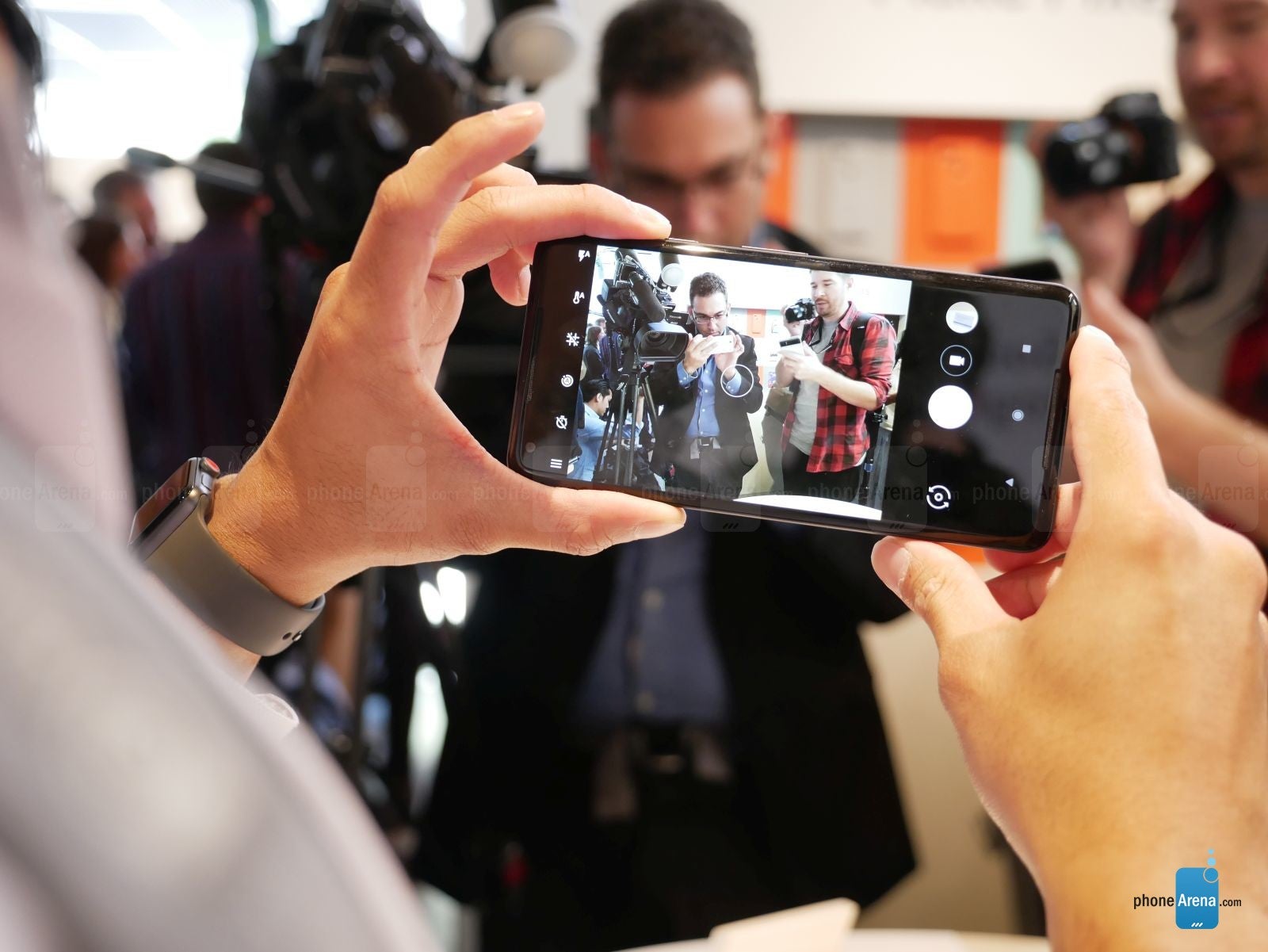 Battery
The overall footprint of the Pixel 2 XL has increased only by a little over its predecessor, so it's no surprise to find its battery to increase a little bit as well to a 3520 mAh capacity. We're confident that it should deliver respectable results when it comes to real-world results, but if there's one thing we're bummed about here is the lack of built-in wireless charging. This, along with the lack of a headphone jack, will be something that consumers will mull over, especially knowing that it's a reality with the Note 8 and V30.
Expectations
Pricing for the Google Pixel 2 XL starts at $850 for the base 64GB version, which places it in line to some of the other competitors in the space. Still, it's still pricey and most of the handset's marquee features are more software driven than anything else. That makes for a tougher justification to side with it over the competition! And when you factor in that it lacks a headphone jack and wireless charging, something that the Samsung Galaxy Note 8 and LG V30 offers, it doesn't make it feel as much of a bargain.
And that's the thing, we know it's a good phone, but is it a better buy than some of those aforementioned phones?