Google improves Pixel 2's photography skills, launches February security update
7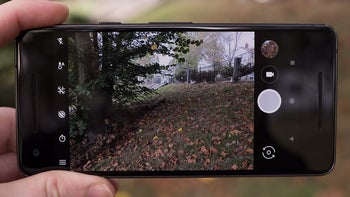 Google just announced that it's ready to release a February security update for its Pixel, Pixel XL, Pixel 2, and Pixel 2 XL smartphones. Alongside various security related fixes, the update brings some extra goodies, in particular to owners of the Pixel 2 series.
With the new update, Google says it's enabling the Pixel Visual Core - a dedicated image processing chip that was dormant until now inside the new Pixel phones (unless you've installed a beta build of Android 8.1 Oreo). According to Google, the Pixel Visual Core allows users to take better photos with third party camera apps - including Instagram, Snapchat, WhatsApp, and so on. More specifically, photos shot in challenging lighting conditions will have a higher quality, being brighter and clearer - similar to photos taken with Google's own camera app (which uses Pixel HDR+ technology). Zoomed-in photos should also look sharper and more detailed.
Several comparisons between photos taken without (left), and with
Pixel Visual Core (right) can be seen below:
The new software update also enhances icons in the Settings app (on all Pixel models), improves Bluetooth call quality for some headsets (all Pixel models), enhances Wi-Fi uplink performance (Pixel 2 and 2 XL), and improves "battery performance on some Pixel 2 XL devices." A full list of improvements is accessible at the second source link below.
Pixel 2 and 2 XL users who like AR (augmented reality) stickers have something to look forward, too. Google is adding some winter sports AR stickers that can be used freely in photos or videos - as illustrated below.
Google's February update, with all its novelties, should be rolled out over the air to Pixel smartphones in the next few days, and some users might actually get it today.
sources: Google Blog, Google Security Bulletin