Google Photos #PayWithAPhoto is a contest involving food trucks and your photographs
1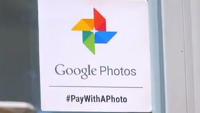 Starting on July 29th, Google will be trying to get the word out about its recently launched Google Photos app with a rather odd promotion involving the use of food trucks. According to information obtained by
Droid-Life,
Google Photo inspired food trucks will be riding around in four cities: NYC, Portland, Los Angeles, and Austin.
The trucks will host a contest in which you are given an item to find by searching for it on your Google Photos app. If you have a picture of that item and are the first to come up with it, you can win a prize. Thus, you will be essentially paying with a photo. Google has embedded a YouTube video that teases the contest inside a tweet that was sent out from the Google Photos Twitter page.
The contest focuses on the new apps' Visual Search feature that allows you to find a stored picture by searching for the people, places or things in the shot. According to Google, you can find a picture you took of a fish taco that you ate in Hawaii by searching for "Hawaii" or "food."
You have a little less than a week to fill your Google Photos app with photographs of anything and everything. The more diverse your photo library, the better chance you might have to win. More information is expected to show up at the Google Photos Twitter page, which we will be monitoring. Feel free to keep checking in.
Here is the schedule for the New York City portion of the promotion:
Wednesday, July 29
11:00 a.m. – 2:00 p.m.: DUMBO (Pearl Street & Water Street)
6:00 p.m. – 9:00 p.m.: Astor Place
Thursday, July 30
11:00 a.m. – 2:00 p.m.: Wall Street
6:00 p.m. – 9:00 p.m.: Flatiron District (17th Street & 5th Avenue)
Friday, July 31
11:00 a.m. – 2:00 p.m.: Chelsea
6:00 p.m. – 10:00 p.m.: St. Mark's Place
Saturday, August 1
11:00 a.m. – 2:00 p.m.: Midtown East (51st Street between Park Avenue & Madison Avenue)
6:00 p.m. – 10:00 p.m.: West Village (Christopher Street & 7th Avenue)
Sunday, August 2
10:00 a.m. – 1:00 p.m.: Flatiron District (25th Street & Broadway)
6:00 p.m. – 9:00 p.m.: SoHo (Hudson Street & King Street)
source:
@googlephotos
via
Droid-Life