Google Now to add more features with November 13th update for Nexus 5?
15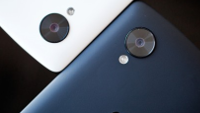 According to a published report, an update for the
Nexus 5
on November 13th will bring new features to Google Now. It is unclear whether this update will eventually spread to all Android phones using the card based Google Now application, or if it will be confined to Nexus 5 users only. For those who have not had the pleasure to use Google Now (which is also available for iOS users in the App Store), it works in conjunction with Google Search to push out information that you might need at that very moment.
Traffic information, weather, sports scores, stock prices and more are automatically sent your way. You can also view your rental car reservation information, seating for a show, and what local events are taking place this weekend, including movie times. The published report states that Google Now will start talking back, and even look for information inside apps. We would imagine that Google will release a changelist for the update pretty soon, but we can give you an idea of what the updated Google Now might be capable off.
You might ask the voice-activated assistant to "text Ropierre," and it might ask you, "which Ropierre?" if you have more than one acquaintance with that name. You could use Google Now to look for a place to eat and get an option inside the results allowing you to open up Open Table and make a reservation. And the update might allow Google Now to use your current location to add more cards. For example, you might be at the Miami Seaquarium and a card will pop up showing you what time the gator show will start and what time the sea lion show is to begin. Pretty sweet stuff.
The same published report also says that the Nexus 5 will be receiving an update to take care of the problems users are having with the rear camera on the handset. No date yet for when you can expect that update to come your way.
source:
Wired
via
AndroidAuthority